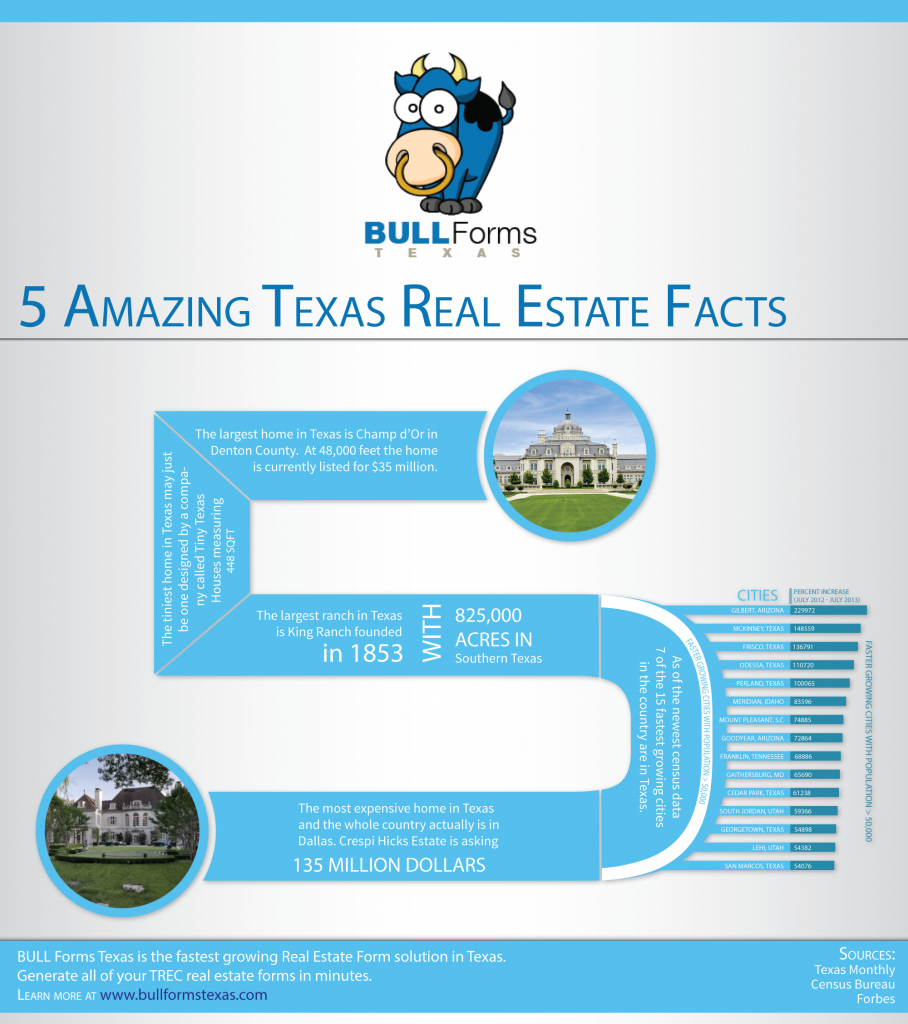 Share this Image On Your Site
5 Amazing Texas Real Estate Facts
Texas is a big state with big properties.  We wanted to take a look at some Texas real estate facts that we thought were both entertaining and surprising.  Hopefully this infographic about 5 selected Texas real estate facts will surprise you.  From the largest Texas home to the largest Texas ranch, these facts are amazing.
Without further ado:
1. The largest home in Texas is Champ d'Or in Denton county. At 48,000 square feet the home is currently listed for $35 million.  With this much space it would be easy to get lost.  The average home size in Texas is somewhere around 1700 sq ft.
2. The tiniest home in Texas may just be one designed by a company called Tiny Texas with houses measuring 448 square feet.  Tight quarters if you are living with a family and children.  You can find plans to build your own tiny home online at Tiny Texas.
3. The largest ranch in Texas is King Ranch, founded in 1853 with 825,000 acres in Southern Texas.  You probably recognize their logo as they have been around since 1853.
4. As of the newest census data 7 of the 15 fastest growing cities in the country are in Texas. Those cities include McKinney, Frisco, Odessa, Perland, Cedar Park, Georgetown and San Marcos.  Texas is growing and at an alarming rate.
5. The most expensive home in Texas and the whole country actually is in Dallas. Crespi Hicks Estate is asking $135 million. Sources: Texas Monthly, Census Bureau, Forbes 
While Texas continues to offer big property with big real estate prices and figures, the majority of Texas real estate facts should be focused around smaller agents and attorneys.  By far our clients are made up of smaller operations with smaller group sizes.
Bull Forms offers a simple online solution to generate all of your Texas real estate forms with simplicity.  Learn more about our Texas real estate form software here.
Sources: Census Bureau, Forbes